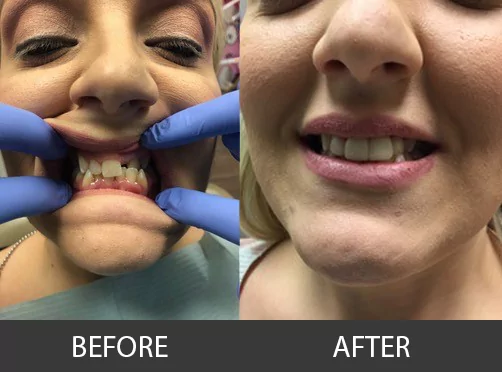 Are you anxious about going to the dentist?
If you've ever been to a dentist that treated you poorly, pushed you into receiving unnecessary services or treated you like just another statistic, we understand your fears and frustrations completely.
We have great news for you. You aren't alone! Every single day, we see patients who share fears that are similar to yours. Here at Spring Dental, we believe that every single person who comes into our practice is unique, valued and special. The second you walk through our doors, you immediately become a member of our Spring Dental family. As a member of our family, we promise to treat you with the utmost respect in a friendly and comfortable environment.
But don't just take our word for it! For our first blog post, we've interviewed one of our amazing patients who wanted to share her testimonial and Spring Dental experience with you.
Meet Tiffany Burns. She was looking for a new smile after losing her teeth as a teenager in a car wreck.
Spring Dental: What were your initial concerns that could have prevented you from choosing us?
Tiffany Burns: "I was in a car wreck when I was in high school, so I had mouth surgery and just a couple of teeth were missing. I've always been pretty leery of going anywhere because I have issues with pain and medication doesn't cover it very well. I hate going to new places! It's definitely a little stressful to go to a new person, explain your situation to them and hope they can get it right."
SD: What did you find as a result of choosing us?
TB: "When I came in, everybody was super friendly. They knew who I was and greeted me by name. They made me feel comfortable from the second I came in. At some places, you feel the pressure right away. They say 'well, you really need to get this done and it's going to cost x amount of dollars' and if you tell them that you can't afford that right now, they say 'no, you really need to do everything.' It was not like that at Spring Dental. They were very responsive and asked questions about anything that I had ever thought about wanting or if I had any questions. They wanted what was best for me and what path I wanted to go down, if any."
SD: What was your favorite part of your patient experience in our office?
TB: "Everybody was so great and they make you feel comfortable, you don't really feel like you're at the dentist! The small talk with the ladies that are helping out and even the dentist themselves just puts you at ease. It's not like you're in there for this chore of having to get work done on your mouth!"
SD: Why would you recommend us to others?
TB: "I would recommend Spring Dental for multiple reasons. The work that was done was great. I had no issues after the fact. Usually, when I get dental work I'm in a lot of pain but at Spring Dental, I didn't have any pain. They provided exactly what I needed and even more than what I wanted! They went above and beyond to make sure that I had the best service. They made me feel comfortable and acknowledged that any issues that I had with my mouth weren't my fault, which some dentists tend to do."
SD: What would you tell others about trusting our office?
TB: "I would say, don't be afraid to try a new place because honestly, I was skeptical going in at first. It was worth it to me because the end result has changed my life. Don't be afraid to branch out and try something new! All you have to do is go in for a cleaning at first and see how they make you feel."
SD: Is there anything you'd like to add?
TB: "Thank you again to the entire staff and the dentist especially for the hard work that they put in and making sure that I left happy! Spring Dental went above and beyond any expectations that I could have had!"
Come in and experience the Spring Dental Difference yourself! We would love to meet you and help you achieve the smile of your dreams – just like Tiffany. We look forward to serving you!