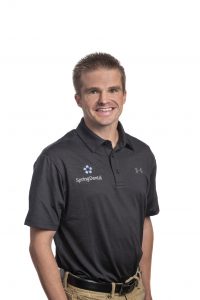 Dr. Kendon Knowles is a Cosmetic Dentist at Spring Dental in Okmulgee, Oklahoma. He grew up near the Rocky Mountains in northern Utah, and attended Utah State University for his undergraduate studies. For Dental School, Dr. Knowles attended Roseman University of Health Sciences where he earned a Doctor of Dental Medicine degree. He is a member of both the Academy of General Dentistry and the Oklahoma Dental Association.
Dr. Knowles and his wife, Misty, enjoy staying busy with their growing family. Together, they share three wonderful children: Nash, Nyla, and Kinley. When he's not being an awesome dentist, you can find him spending time with his family or coaching his son's soccer team!
A fun fact about Dr. Knowles is he learned he wanted to be a dentist in a taxi in West Africa! During his ride, he met another Dentist and the conversation they shared sparked his interest in the dental field. When he returned to the states, Dr. Knowles shadowed his family dentist, which solidified his love for dentistry!